What is the 3 Week Live Recorded Heart of Frame Drumming Signature Introduction?
It's the Full complete signature Introduction divided into 3 workshops
1. Foundational Introduction
2. Honoring the Elements Through Rhythm and chant
3. Review and Ma Chant
4. Emphasizing Weaving voice and stepping

How is it different from the shorter Introduction?
This course will emphasize integrating stepping with the same material with the addition of the Ma Chant. The stepping is a teaching of Layne Redmond via her teach Glen Velez. It's a special skill set that helps keep you in the pulse and is a holistic approach that is more embodied. In addition there some supplementary videos.
Shorter introduction
is
1.Foundational Intrdouction
2. Honoring the Elements Through Rhythm & Chant
3. Bonus Affirmation video with notation
Note : The 3 week course will be accessible for 5 months from date of registration. There are no extensions though by re-registering you will get another 5 months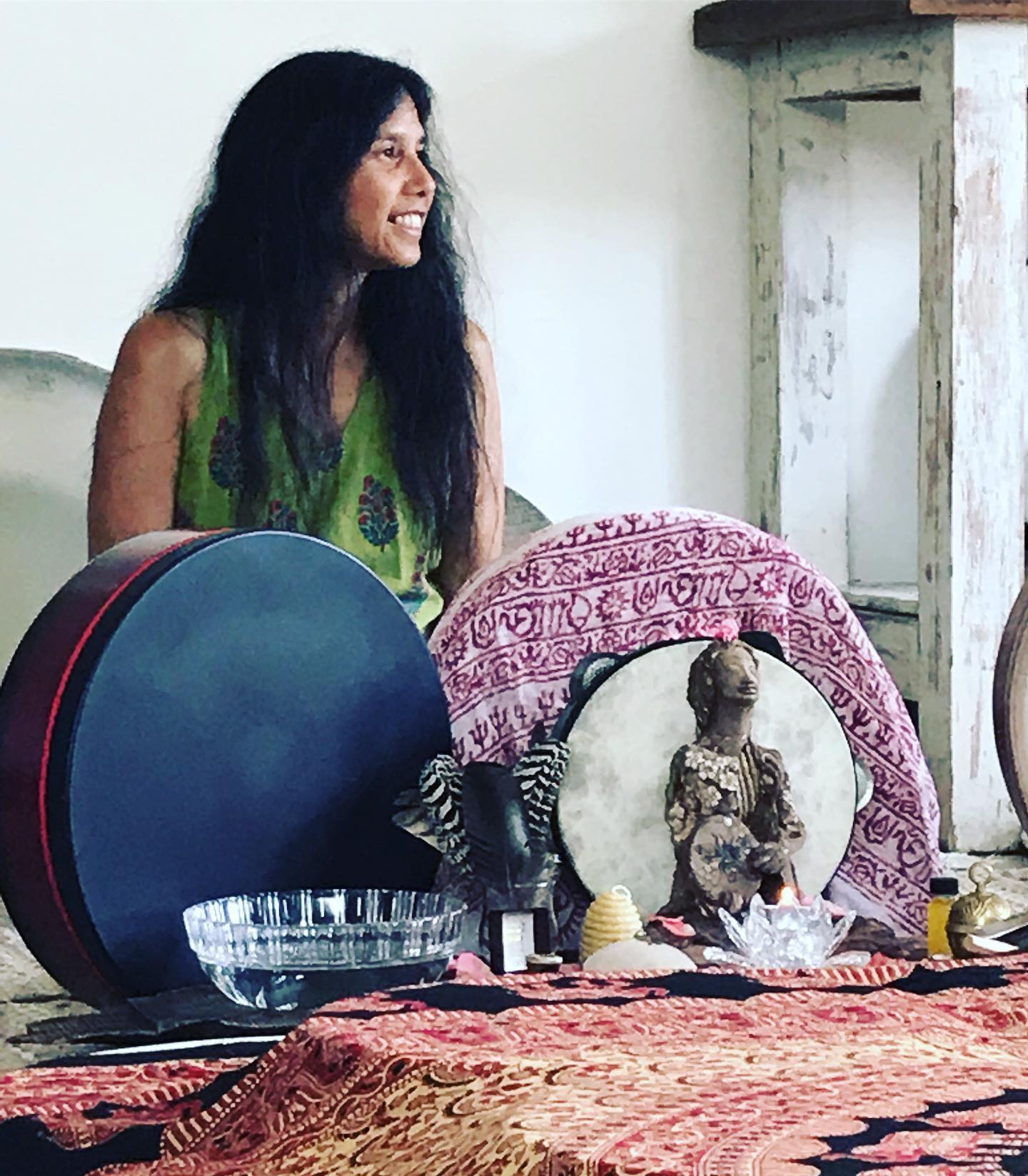 Miranda Rondeau is an internationally recognized devotional singer, musician, and frame drum artist.
She has been teaching the craft since 1999, as encouraged by her late teacher Layne Redmond, author of the seminal book,  When the Drummers Were Women.
 Miranda has created and teaches a repertoire of frame drum "circle songs" as a way of sacred remembrance. Her songs honor and celebrate nature, the elementals, the sun, moon and womb.
She also has songs to uplift or bring about connection.
She performs in a ceremonial context, playing for rites of passage and communal bonding. She also sings in an intuitive language of her own.
 Miranda has taught in Germany. Spain, The Netherlands, Asheville Percussion Festival, International Biblical Frame Drum Festival in Ottowa Canada as well as throughout California.
She teaches online and through Frame Drum Circle Song Portal and as guest teacher for different
online programs like The Global Rhythm Sangha with Christine Stevens, Sacred Drumming for Krista Holland on the Shift Network, Dance Cohesion Collective with April Rose, as well as programs based on Earth honoring teachings like Etheric Gardening and Homecoming- Elemental School.
Miranda created an online presence for Women Frame Drumming through social media.
She is dedicated to reclaiming the ancient frame drum as a Tool of Remembrance.
3 Week Online Live Recorded

Heart of Frame Drumming Introduction Signature Course with
Miranda Rondeau
( Emphasizing vocal weavings, chant and stepping )
2023 Live recorded classes in Jan.

No experienced needed
Frame drum needed
---------------------------------------------------------------
ABOUT FRAME DRUM YOU WILL NEED
*You will need a HAND played frame drum with the thumb notch or thumb hole.
16" remo fiberskyn frame drum's are good starter drums or invest in a Cooperman handcrafted 16" frame drum
NOTE:
( This is not a workshop for the drums with the mallets as they are built differently than the hand played style.
This video will give a few things to think about when you get your drum
https://youtu.be/ONoeADTujgg
---------------------------------------------------------------

It is a fusion of Layne Redmond's teachings, her teaching style along with Miranda Rondeau's teaching style, her material and the weaving of voice and song.
At the center is Devotion.
It is a reclaiming of this ancient instrument as a sacred Tool of remembrance.

~~~~~~~~~~~~~~~~~~~~~~~~~~~~~~~~~
This course will fulfill pre-requisites for all other classes
~~~~~~~~~~~~~~~~~~~~~~~~~~~~~~~~~
Course INCLUDES :
* Bonus live recorded workshop featuring I Am Peace Chant
* Opening Drum Invocation
*Grounding Meditation
* Basic music concepts
*Stepping in rhythm
*Wholistic experience of drumming
* Learn basic drum strokes
* Recite drum strokes
* Warm up patterns
* Simple rhythm patterns
*Vocal Weavings with drumming
* Elemental connections to drum strokes
*Honoring the Elements
*Elements Song Chant
*Ma Chant
*Reading drum notation
*Homework
* PDF's
NOTE: The difference of the two Introductory recordings is this one integrates the stepping and has an additional chant.

Important - Duration
You will have 24/7 access for 5 months from date of purchase.
Please make room in your schedule to complete the course within 5 months.
There is no extensions accept by registering for the class again.
Testimonial
The " Stepping into Rhythm
and "Heart of Frame Drumming" courses are really helping me understand more deeply the drumming practices I have been learning from other drum teachers.
I find your teaching style fun, refreshing and detailed. I love the tempo of learning and how you build the practice of the stepping, hands voice and melody to allow integration into the body memory and also how you bring in the new information to build on the foundation.
My voice is very shy but it is very slowly and gradually coming out to play. I am really enjoying learning from you. Exciting journey. Thank you so much.
Vivien.




FAQ

Frequently Asked Questions


When will the course begin and end?
It begins upon registration.
It is self paced.
You will have 24/7 access for 5 months from date of purchase.
Please make room in your schedule to complete the course within 5 months.

There is no extensions accept by registering for the class again.

This will fulfill the Pre-requisite for all other classes


What is the best way to take the course?
I suggest taking each workshop without stopping the video one week apart with practice in between for best results and progress. Progress is based on body memory so you don't want more than a week to pass by.
Normally this course is taken in a 3 hour in person session and the body memory is strengthened to have repetition within the same session in short period of time.
Once you've done all three workshops you can then review at your own pace.



What kind of drum do I need?
You will want a frame drum that has a thumb notch or thumb hole. This will help you to be able to reach the drum head with your holding hand to play.


I recommend 16" remo fiberskyn frame drums to start off.
You can learn more about the differences in frame drums here.
Do I need any music experience ?
No musical experience needed.

Can I use this material to teach?
Officially this course content, material, original songs, PDF's are not offered as free ' teaching material ' 


Officially the only teaching instructions for both the drumming and singing of the chants in a workshop container is through the portal of live and recorded classes with me.
Thank you for recommending my classes to those you know who may want to learn.
Thank you for honoring my work.

Those who went through teacher training or coaching have permission to officially teach the material.

The course, and the material was created for personal use.

You are welcome to sing the songs in circle, group or event as an offering to share.

Check your inbox to confirm your subscription