Layne's Birthday is Aug. 19th
The anniversary of Layne Redmond's
passing is Oct. 28th
and her induction into the PASIC Hall of Fame was
Nov. 11th.


use coupon code at check out
--------------------------------------

35%-OFF-TAMBOURINE


___________________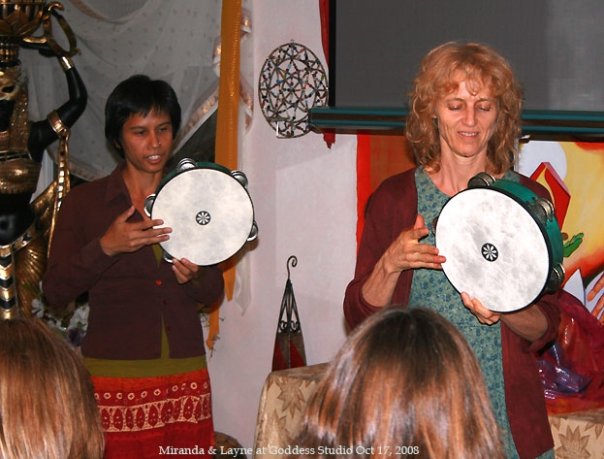 I started studying with Layne Redmond around 1994/1995 which began on the tambourine.
I had the privilege to also assist and perform with her on the west coast of California
This live recorded series began on the anniversary of her passing on Oct. 28th. One class also aligned during her induction into the Percussive Arts Society Hall of Fame to which many around the world were drumming.
My friend and colleague Barbara Gail was present to honor Layne Redmond through tambourine procession and workshop at PASIC.
She then came as a guest on our series the following week. So it was a magical series to offer!
It is jammed packed.
*10 hours of instructional class time
*49 additional supplemental videos
* 10 PDF's




6 Week Online Live recorded Introductory Tambourine Class Series: The Elements with Miranda Rondeau
Dedicated to Layne Redmond. We began the series on the anniversary of her passing Oct. 28th.
We drummed on the day of her induction to the Percussive Arts Society (PAS) Hall of Fame on 11/11.
-------------------------
*The material will be drawn from Layne Redmond as well as Miranda Rondeau.
*6 live recorded workshops (10 hours)
*49 Additional supplemental videos.
*10 PDF's
*It's a suer packed series

----------------------------------
*No Experience Needed
* Need a 10" double row jingled tambourine. Recommend Layne Redmond's lotus tambourine.
https://youtu.be/yqcSER5v81E

---------------------------
We will be honoring the Elements each week
Week #1 - Introduction to the tambourine
Week #2 - Earth
Week #3 Water
Week #4 Fire
Week #5 Air
Week #6 Space - jingles
~~~~~~~~~~~~~~~~~~~~~~~
Special guest on on session #4 Barbara Gail a senior legacy teacher of Layne. Sharing about her celebration for Layne at PASIC through teaching a tambourine workshop as well as leading a procession in honor of Layne at the induction. She'll share a Brazilian rhythm
Series include
Invocation
Warm ups
Learn Basic Strokes
Elemental connection to strokes
Exercises for stroke fluidity
Stroke combinations
Rhythm patterns
Rhythms Layne loved
Story weavings of Layne

Jingle exercises including rolls
Stepping, drumming and voice
Sing Element Song lyrics
PDF's
6 live recorded workshops (10 hours)
49 Additional supplemental videos.
It's a suer packed series you'll want to revisit over and over

~~~~~~~~~~~~~~~~~
TAMBOURINE
You will want at least a 10" tambourine with a head that has a 5 sets of double row of jingles.
I recommend Layne Redmond's 10" Lotus Tambourine. It is light weight, has nice size and sounding jingles.
Here is a video of Layne Redmond demonstrating her signature tambourines.
Testimonials

"I loved this class and all your video classes. I pray for the day you are back teaching.Our women's drumming world needs you and your magical ways of teaching."
Cathie DeChellis
~8~
"Miranda!! I spent the morning with you reviewing the first Tambourine lesson. I'm so excited realizing how much I've learned and remembering what clutz I was when I first picked up the tambourine.
You are so so precious and I wanted to thank you again.
You will always be my first teacher, as I was inspired by Layne's book to pick up the drum. Since then I have acquired 2 tambourines and 4 frame drums.
So the journey continues. Blessed Bee Sweet Sister Miranda! "
Aura Janes

Check your inbox to confirm your subscription