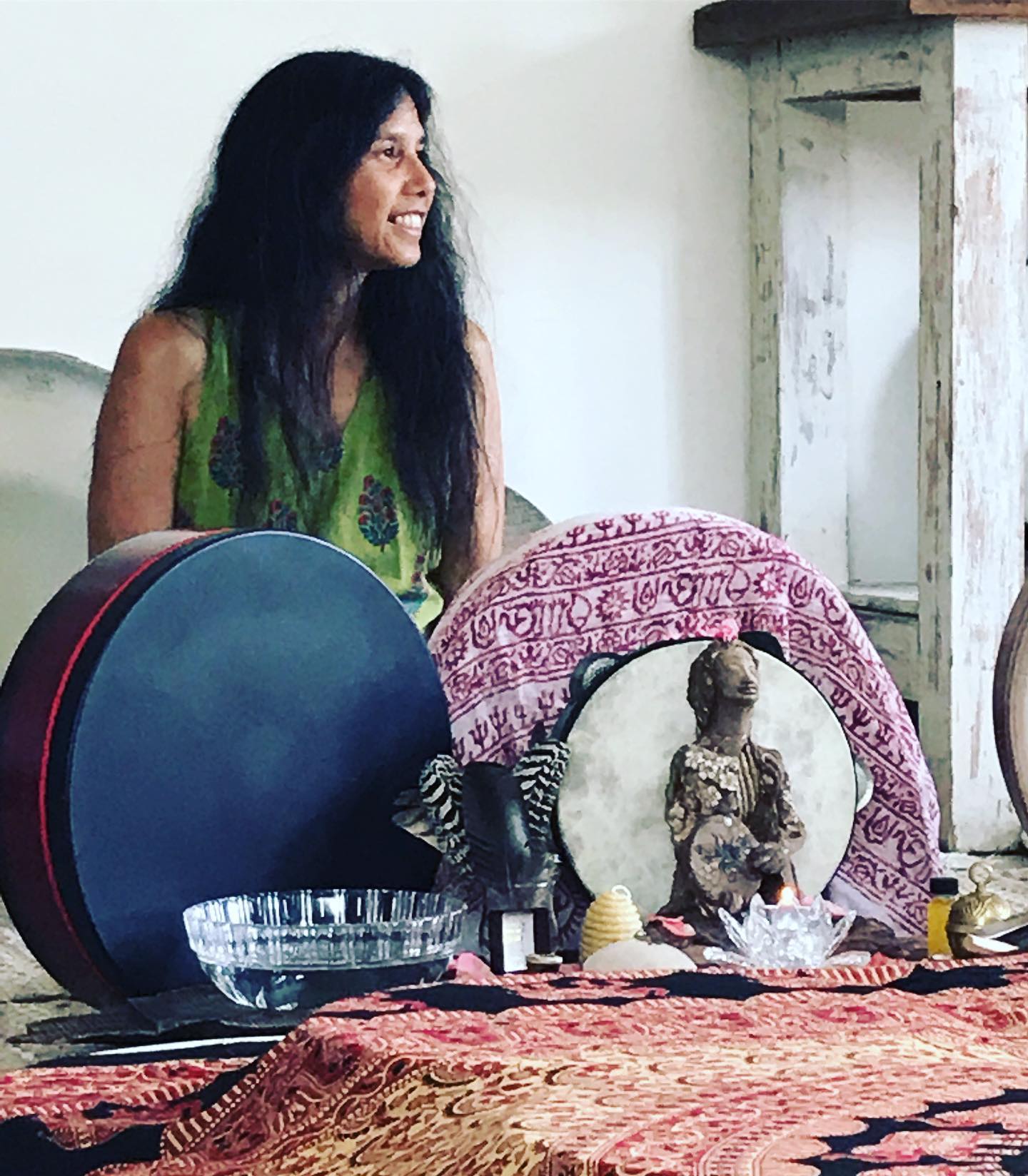 Miranda Rondeau is an internationally recognized devotional singer, musician, and frame drum artist. She has been teaching the craft since 1999, as encouraged by her late teacher Layne Redmond, author of the seminal book, When the Drummers Were Women.
Miranda has created and teaches a repertoire of frame drum "circle songs" as a way of sacred remembrance. She performs in a ceremonial context, playing for rites of passage and communal bonding.
She performed together with her students for house recitals, and public events.Miranda has taught in Germany, Spain, The Netherlands, Canada and throughout California.
She taught at The Asheville Percussion Festival and has performed at Tamburi Mundi Frame Drum Festival, International Biblical Frame Drum Festival, North American Frame Drum Festival, California and the First American Frame Drum Gathering.
She also created and maintains the online presence for "Women Frame Drumming," dedicated to Layne Redmond.
She is dedicated in reclaiming the frame drum as a sacred tool of remembrance.

MA CHANT

MA CHANT Online live recording frame drum circle song class session.
This was my first online class offering from May 2018.
*This is for hand played frame drums.
PRE_REQUISITE - Frame Drum Introduction
Recorded live class lesson includes drum sisters joining along for the 2nd half of the class. This gives a peak into the experience of what group drumming and chanting sounds like for this chant.
It is an invocational repetitive mantra for the Divine Mother/ Universal Mother / All Mothers / and Mother within. It is very grounding as well as entrancing. It is a beautiful way to entrain together as a group.
Lesson includes
Welcome Video
Lap style position preparation video
Learn the Ma Chant pattern through singing
Breathing in rhythm
Learn the Ma Chant while drumming
Drum and chant with drum sisters
Practice listening for signal
PDF of Ma Chant notation
Duration
Videos are accessible 24/7 for 30 days from the date of registration.
Please plan your time accordingly to complete it.
There is no extensions, so If you want to spend more time with the material, you will need to register for it again.
Example Curriculum
Available in days

days after you enroll

Frame Drum Circle song "MA CHANT" online live class recording
Frequently Asked Questions
When will the course begin and end?
It begins upon registration.
It is self paced.
You will have unlimited access for 30 Days from date of purchase.
Please make room in your schedule to complete the course within 30 Days.


Do I need experience?
Yes, there is a pre-requisite.
Is there a pre-requisite?
Heart of Frame Drumming Live Recorded Workshops or equivalent.
( Know how to hold the drum, names of strokes, how to play each stroke, how to play patterns, how to read simple drum notation)


What kind of drum do I need?
You will want a frame drum that has a thumb notch or thumb hole. This will help you to be able to reach the drum head with your holding hand to play.

I recommend 16" remo fiberskyn frame drums to start off.
You can learn more about the differences in frame drums here.


Can I use this material to teach?
Officially this course content, material, original songs, PDF's are not offered as free ' teaching material ' 


Officially the only teaching instructions for both the drumming and singing of the chants in a workshop container is through the portal of live and recorded classes with me.
Thank you for recommending my classes to those you know who may want to learn.
Thank you for honoring my work.
Those who went through teacher training or coaching have permission to officially teach the material.



The course, and the material was created for personal use.


You are welcome to sing the songs in circle, group or event as an offering to share.








Check your inbox to confirm your subscription